Nederlands:
English:
AustraliŽ / Australia 2012
In 2012 hebben we een camper gehuurd en in Australiė van Sydney naar Cairns gereden. In Broadbeach en Bethania (vlakbij Brisbane) hebben we mijn familie bezocht. In Smithfield vlak bij Cairns gingen we op bezoek bij de broer van mijn vrouw. (vertrek 24 april, weer thuis 1 juni) De eerste en laatste dagen zaten we in een hotel. In Broadbeach zaten we in Beachhaven Resort, dat van mijn familie is.

In 2012 we hired a campervan and we drove from Sydney to Cairns in Australia. In Broadbeach and Bethania (near Brisbane) we visited my family. In Smithfield near Cairns we visited the brother of my wife.
Departure April 24, back home June 1. The first and last days of our holiday we stayed in a hotel. In Broadbeach we were in Beach Haven Resort, which is owned by my family.
Campervan: Maui Ultima.
Route:
Sydney (Hotel Parkroyal Darling Harbour) - 110 km // Blue Mountains (Katoomba Falls Road Caravan Park) - 260 km // Hunter Valley (Valley Vineyard Tourist Park) - 330 km // Coffs Harbour Darlington Beach Holiday Park) - 470 km // Lennox head (Lake Ainsworth Holiday Park) - 70 km // Broadbeach (Beachhaven Resort) - 350 km // Hervey Bay (Fraser Lodge Holiday Park) - 90 km // Atherton (Atherton Woodlands Touris Park) - 90 km // Cairns (The Crystal Cascades Holiday Park) - 20 km // Trinity Beach (Blue Lagoon Resort)
We hebben 3640 km gereden. De camper hebben we bij Maui gehuurd. (Campertype: Maui Ultima) We hebben hem in Sydney opgehaald en in Cairns weer ingeleverd.
Op de terugreis naar Nederland zijn we een dag in Hongkong gebleven. Zie verdere informatie op de subpagina. On the return trip to the Netherlands, we stayed in Hong Kong for a day. See further information on the subpage.
Subpagina AustraliŽ / Subpage Australia: Hongkong / Hong Kong
Dieren, die ik heb gefotografeerd staan op een aparte pagina. Animals, which I have photographed are on a separate page. Subpagina AustraliŽ, subpage Australia: Dieren AustraliŽ, Animals Australia

Sydney AustraliŽ.

Ons hotel lag bij Darling Harbour. Dit gebied was vroeger een industrie terrein en haven voor b.v. wol, graan, steenkool. Nu alles wordt aangevoerd door containerschepen raakte het in verval. Het is prachtig opgeknapt.
Er zijn veel restaurantjes, speelterreinen voor kinderen, het Sydney Aquarium, een Chinese tuin. Het is er altijd druk en gezellig. Er zijn wegen hoog over het gebied gebouwd, die niet storend zijn. Enkele foto's:

Our hotel was in Darling Harbour.
This area was originally an industrial center and port for wool, grain, coal etc. That's changed for now everything is headed by container ships.
They have transformed the aria into a beautiful public place. There are many restaurants, playgrounds for children, the Sydney Aquarium, Chinese Gardens. It is very populair spot. The roads above Darling Harbour are not disturbing.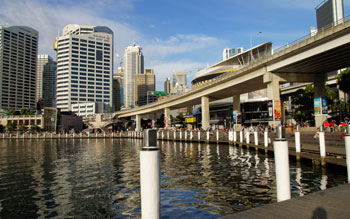 ..
..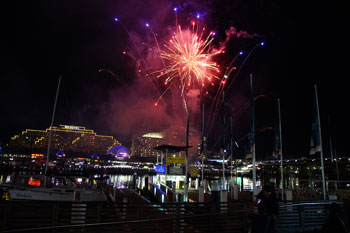 Op onze laatste avond in Sydney (Vrijdagavond) was het erg druk in Darling Harbour. Er bleek een vuurwerkshow te zijn!
On our last night in Sydney (Friday) it was very crowded in Darling Harbour. We did not know there was a fireworks show
..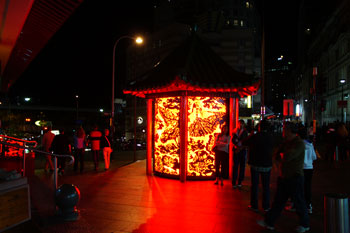 Chinatown: 's Avonds gingen we uit eten Chinatown. Een wijk met veel restaurants vlakbij ons hotel.
In the evening we went to dinner Chinatown. An area with many restaurants near our hotel.
..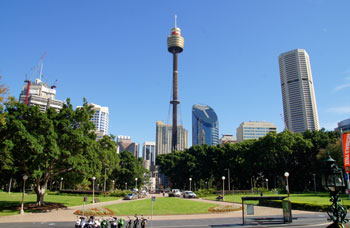 ..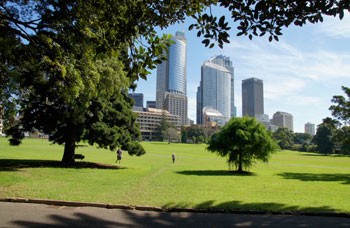 The Domain, the Botanic Gardens: Door het centrum en het Hyde Park zijn we naar de Botanic Gardens gewandeld. Je komt dan ook langs de St. James Church. Daarna wandel je door "The Domain" Een open terrein met veel gras en bomen.
We walked through the city center and the Hyde Park to the Botanic Gardens. You'll walk also along the St. James Church. After that you walk through "The Domain." An open area with lots of lawns and trees.
..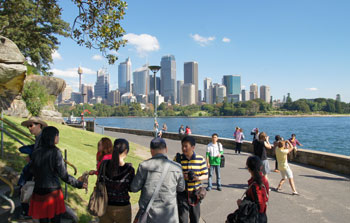 ..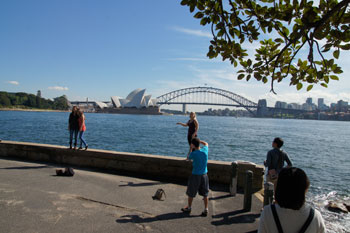 Tot mijn verrassing stond er ook een flessenboom. Toen ik nog jong was had mijn oma foto's laten zien van deze boom. Die was veel groter dan de bottle tree in de tuin. To my surprise there was also a bottle tree. When I was young, my grandmother showed me pictures of this tree. It was much bigger than the bottle tree in the garden.
Een prachtig uitzicht hebt op zowel de Sydney Harbour Bridge als het Sydney Opera House. A magnificent view of both the Sydney Harbour Bridge and Sydney Opera House.
..

Deze mooie rustige wijk ligt vlakbij het centrum (Wijk Woolloomooloo). This beautiful quiet area is close to the center (Wijk Woolloomooloo).
Nationaal park: Blue Mountains

Nadat we de campervan uit Sydney hadden opgehaald zijn we naar Katoomba in de Blue Mountains gereden. Hier stonden we op Katoomba Falls Road Caravan Park. Een camping vlakbij de vallei. (loopafstand). Je kunt er goed wandelen. maar er zijn ook bussen, die steeds rondrijden. Nationaal park: Blue Mountains†Scenic skyway Katoomba Nationaal park: Blue Mountains†
With the camper we drove from Sydney to Katoomba in the Blue Mountains.
Here we were at Katoomba Falls Road Caravan Park. A campsite, near the valley. (walking distance). You can walk well, but there are also buses driving around.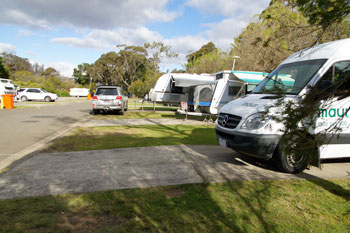 ..

Katoomba Falls Road Caravan Park. Katoomba. Een toeristenstadje. Vlakbij alle attracties. A tourist town. Close to all attractions.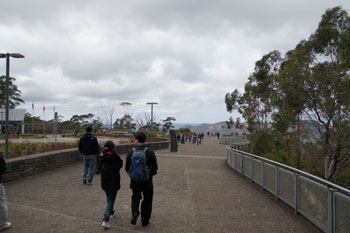 ..
..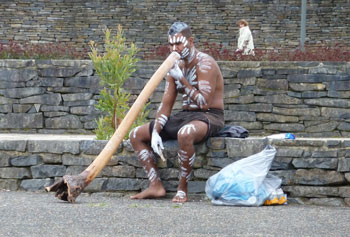 Uitzichtpunt op de vallei en de Three Sisters. Viewpoint of the valley and the Three Sisters.
..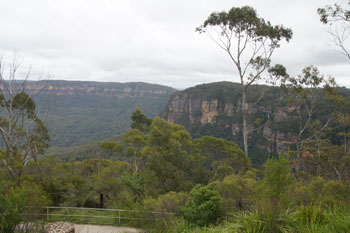 ..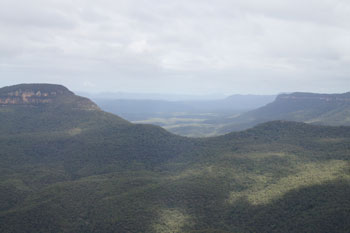 The "Three Sisters" Een prachtig gebied met steile kliffen. De bekendste rotsformatie is de "Three Sisters". De naam heeft de rotsformatie gekregen naar aanleiding van een oud verhaal van de aboriginals, die hier woonden.
De bergen worden blauw genoemd, omdat de vele eucalyptusbomen een blauwe gloed geven. Verder zijn er watervallen, grotten, een uitkijkpunt, een Scenic Skyway gondel en de Scenic Railway, het steilste spoor ter wereld naar de bodem van de kloof. A beautiful area with steep cliffs. The most famous rock formation is the "Three Sisters". The name has been the rock formation in response to an old story of the Aborigines, who lived here. The mountains are blue, because a blue glow of the many eucalyptus trees. There are also waterfalls, caves, a viewpoint, a Scenic Skyway gondola and the Scenic Railway, the steepest railway in the world to the bottom.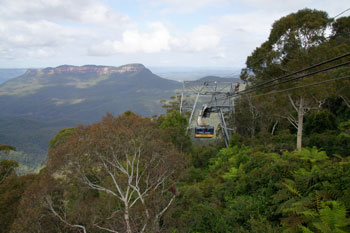 ..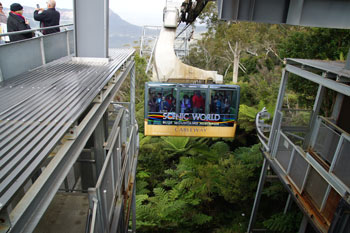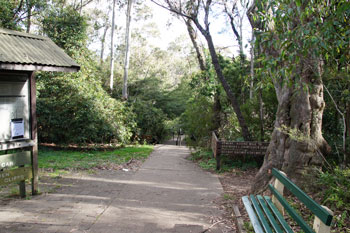 ..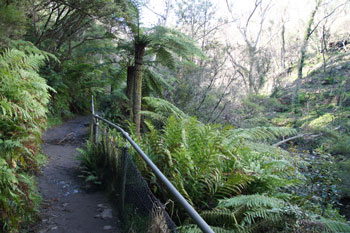 Dit pad loopt vanaf de camping naar de vallei en waterval. This path leads from the site to the valley and waterfall.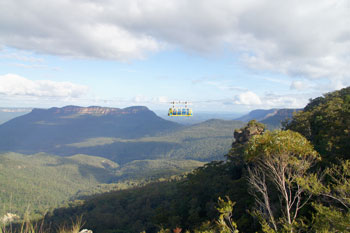 ..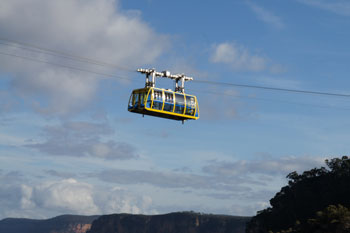 Hunter Valley, AustraliŽ
In Hunter Valley stonden we op de camping Valley Vineyard Tourist Park bij het stadje Cessnock. Hunter Valley is bekend om de vele wijngaarden, die je kunt bezoeken. De wijnen mag je natuurlijk proeven, maar ik moest nog rijden en ze zijn streng in AustraliŽ.
In Hunter Valley we were at the campsite Valley Vineyard Tourist Park near Cessnock. Hunter Valley is known for its many vineyards, which you can visit. The wines you can taste of course, but I had to drive and they are strict in Australia.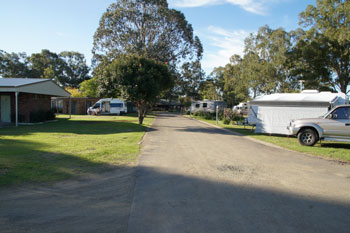 ..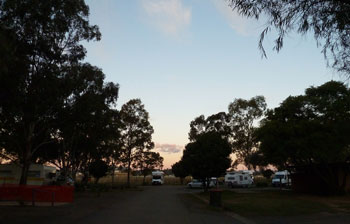 Bezoek aan/Visit to Lindemans Vineyard.
Deze wijn kopen we thuis ook. Dus we waren nieuwsgierig waar het vandaan kwam. Het is allemaal wat zakelijker dan in Frankrijk. Aan het museum kunnen ze meer doen. We hebben voor de familie flessen wijn gekocht. De druiven waren al geplukt. Daarna hebben we de omgeving bekeken.
This wine we buy in The Netherlands. So we were curious where it came from. It's all a bit more businesslike than in France. The museum can be made more beautiful. We bought bottles of wine for the family. The grapes were already harvested. After the visit we viewed the area.
Coffs Harbour, AustraliŽ


Een paar kilometers buiten de stad Coffs Harbour ligt de camping Darlington Beach Holidaypark. Een prachtige camping vlakbij zee. De kangoeroes wandelen over de camping.
A few kilometers outside Coffs Harbour, near the sea is the campsite Darlington Beach Holidaypark. The kangaroos walk on this campsite.
..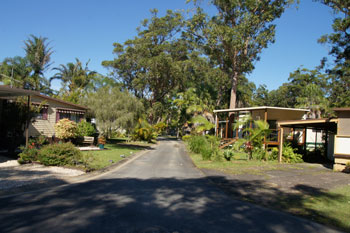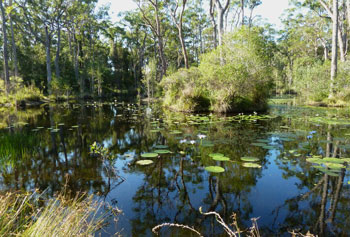 ..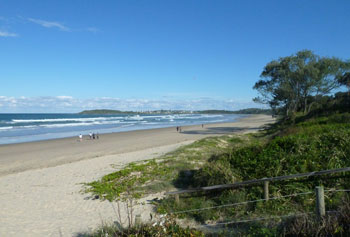 Lennox head, AustraliŽ

Lennox Head is een gezellig toeristisch stadje aan zee. We zaten op de camping Lake Ainsworth Holiday Park. Aan het meer en bij de zee.
Lennox Head is a friendly seaside tourist town. We were on the Lake Ainsworth Holiday Park. At the lake and the sea.
..
..
..

Lake Ainsworth en het natuurgebied. De natuur ziet er anders uit, dan de bossen, die we gewend waren. Er zijn veel 'grasbomen',
Lake Ainsworth and the nature. The nature is very different than the forests, which we were accustomed. There are many grass trees. (family Xanthorrhoeaceae)
..
..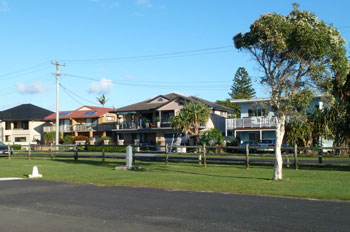 Je kunt vanaf de camping over het strand, over de begroeiing langs het strand of over de weg naar Lennox Head wandelen.
You can walk from the campsite to Lennox Head on the beach, on the vegetation along the beach or on the road.
Broad Beach

Broad Beach ligt aan de Gold Coast. Een toeristisch gebied van ongeveer 75 km lang ten zuiden van Brisbane met prachtige stranden en een bergachtig gebied met bossen in het binnenland. Een trekpleister zijn ook (zoals op veel plaatsen) de walvissen. Maar die zijn er niet in de herfst.
In Broad Beach waren we in Beach-Haven. Dit resort is in het bezit van mijn familie. We mochten gratis gebruik maken van een appartement. We hebben er een heel gezellige tijd gehad. Het was leuk om onze familie te zien.

Broadbeach is located on the Gold Coast. A tourist area south of Brisbane with beautiful beaches near moutains and forests. The whales are an attraction, but not in autumn. In Broadbeach we were in Beach-Haven. This resort belongs to my family. We were allowed to stay in apartment. We have had a very nice time in Broad Beach. It was nice to see our family.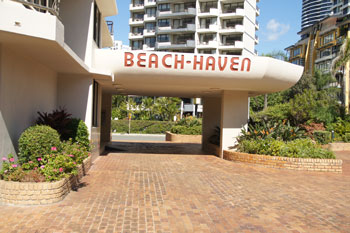 ..
..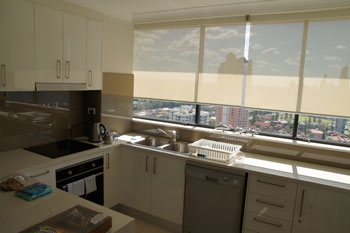 Broad Beach Resort Beach-Haven.
..
..

Broad Beach Resort Beach-Haven. View.
..
..

Broad Beach Resort Beach-Haven. Building
..
..

Er zijn vele restaurants. There are many restaurants.


Hervey Bay

Hervey Bay is bekend om de walvissen. Maar niet in de herfst. Vlakbij ligt Fraser Island. Fraser Island is een groot zandeiland met een regenwoud. De tochtjes vanuit Hervey Bay waren duur. Je werd dan de hele dag bezig gehouden op het eiland. Wij wilden het gewoon eens bekijken. Maar dat was er niet. We hebben het dus laten zitten. Een eilandbezoek zouden we wel bij Cairns doen.
Hervey Bay is known for the whales. But not in autumn. Nearby Hervey Bay is Fraser Island. It is a large sand island with a rainforest. The trips from Hervey Bay were expensive. To visit the island only for a walk was not possible.
..
..
..

Hervey Bay Botanical gardens. De Kalongs hingen ook hier in de bomen. Er is een leuk orchideeŽnhuis.
Hervey Bay Botanical gardens. The Kalongs were also hanging in the trees here. There is a nice orchid house.

Rockhampton

Rockhampton ligt aan de Fitsroy river Niet aan zee maar 40 km landinwaarts. De stranden zijn dus niet ver. Het ligt in een streek waar veel vee wordt gehouden en is in 1854 gesticht.
Rockhampton lies on the river Fitsroy. Not at the sea but 40 km inland. The beaches are not far away. It is located in a area with much cattle.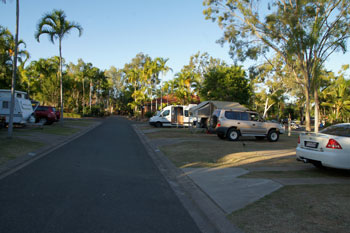 Dichtbij de camping zijn de Kershaw Gardens. Daar zijn we heengegaan. Een andere mogelijkheid zijn de Rockhampton Botanic Gardens.
We have visited the Kershaw Gardens. They are near the campsite. Another possibility are the Rockhampton Botanic Gardens.
..
Onderweg naar Airlie Cove. On the way to Airlie Cove.
Een kraampje met heerlijke mandarijnen in een uitgestrekte grasvlakte. Verder is er niets te zien. Prachtig!
A stall with delicious mandarins in a vast grassy plain. Furthermore, there is nothing to see. Beautiful!


Airlie Beach, AustraliŽ

Vanuit Airlie Beach kun je de Whitsundays eilanden en het Groot BarriŤrerif bezoeken. From Airlie Beach you can visit the Whitsundays Islands and Great Barrier Reef visits.

Camping: Airlie Cove Resort and Van Park.
Een gezellige mooie camping een paar kilometer buiten Airlie Beach. De stad, zee en strand is makkelijk te bereiken met openbaar vervoer.
De camping ligt tegen de beboste helling.

Campingsite Airlie Cove Resort and Van Park is a few kilometers outside Airlie Beach. The city, sea and beach is easily to reach by public transport. The campsite is situated at the wooded hillside.
Airlie Cove Resort and Van Park... Airlie Cove Resort and Van Park... Airlie Cove Resort and Van Park.


..
..
Onderweg. On the way.
..
..
.
Tussen Brisbane en Cairns wordt heel veel suikerriet verbouwd. . Roadworks. Door de hevige regenval, die er was geweest, moesten de wegen hersteld worden en verbeterd worden. We kwamen heel veel roadworks tegen. Het stopbord hebben we vaak gezien. We hebben ook veel huizen op palen gezien.
Between Brisbane and Cairns is a lot of sugarcane. Heavy rainfall had damaged the roads. We got a lot of road works. The stop sign, we have often seen. We also have seen many houses on stilts.
Camping: Innisfail Mango Tree Tourist Park
We wilden eerst tot Atherton rijden. Maar dat was te ver. We hebben op deze camping overnacht. De volgende dag zijn we via het Mamu Rainforest naar Atherton gereden.
First we first wanted to drive to Atherton. But that was too far. We have overnight at this campsite. The next day we drove via the Mamu Rainforest to Atherton.


Mamu Rainforest

Voordat we naar Atherton gingen hebben we het Mamu Rainforest bezocht. In het begin was het regenachtig, gelukkig verscheen op een gegeven moment de zon.
Er zijn verhoogde paden waardoor je tussen de boomtoppen loopt. Er zijn verschillende punten, waar je prachtig uitzicht hebt. Er is zelfs een uitkijktoren.
Before we went to Atherton we visited the Mamu Rainforest. On the elevated walkways you walk through the treetops. There are several points where you have spectacular panoramic views. There is even an observation tower.
Atherton, AustraliŽ

In Atherton zaten we op de camping Atherton Woodlands Tourist Park.
Een prachtige camping. Alleen het weer was niet zo goed. De eerste foto's heb ik gemaakt toen we aankwamen. Toen scheen de zon. De volgende dag was het echter regenachtig. Daarna hebben we nog enkele regenachtige dagen gehad. Dat viel wat tegen want het regenseizoen was al voorbij. De eerste dag zagen we een wallaby op de camping.

In Atherton, we were at the campsite Atherton Woodlands Tourist Park. A beautiful campsite. Only the weather was not so good. When I took the first pictures the sun was shining. The next day however, it was rainy. Then we had some rainy days. That was disappointing because the rainy season was already over. The first day we saw a wallaby on the site.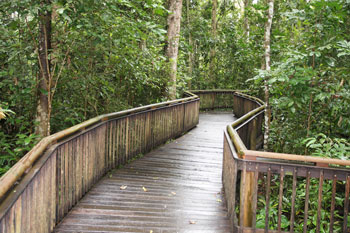 ..
..

Net buiten het plaatsje Yungaburra staat deze enorme Curtain fig tree. Op het bord, staat informatie over deze boom.
Just outside Yungaburra is this huge curtain fig tree. On the board, is information about this tree.
..
..
Lake Barriner is a crater filled with water. It is formed about 17,000 years ago.Because of the gloomy weather, there were too few people for the cruise.
Twin Giant Kauri Pines: Around the lake is a rainforest. A special tree is the Bull Kauri (Agathis microstachya). It is about 50 m high.
We zijn via Kuranda naar Cairns gereden. Kuranda zet ik op de volgende pagina. Onderweg zagen we termietenheuvels. De meeste hadden heel grillige vormen. We zijn gestopt om er een op de foto te zetten.
We drove to Cairns via Kuranda. We saw termite mounds . Most had very irregular shapes. We stopped to make a picture of it.
Kuranda

Vanaf Atherton zijn we eerst naar Kuranda gereden. Daarna hebben we in Smithfield bij Cairns onze zwager / broer bezocht. Na het bezoek zijn we naar de camping gegaan.
Kuranda ligt midden in het regenwoud en bereikbaar via de weg, kabelbaan en spoorweg. Je ziet er heel veel toeristen. Een andere dag zijn we met de kabelbaan naar Kuranda gegaan en terug met de trein.

From Atherton we first drove to Kuranda. Then we visited my wifes brother in Smithfield (Cairns). After the visit we went to the campsite.
Kuranda is located in the rainforest and accessible by road, skyrail and train. You see a lot of tourists.Another day we went by cable car to Kuranda and back by train.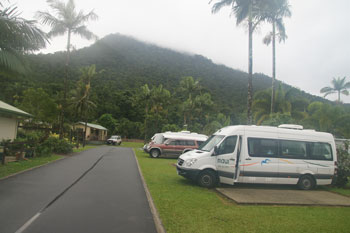 De camping: The Crystal Cascades Holiday Park.
Dichtbij Smithfield en Cairns. Een van de mooiste campings, die we bezocht hebben. Met mooi weer kun je op de camping blijven en in de omgeving gaan wandelen. Helaas.......
Near Smithfield and Cairns. One of the nicest campsites we have visited. With good weather you can stay at the camping and go for a walk in the area. Unfortunately.....
..
..

Kuranda. Er zijn veel souvenirwinkeltjes. In Kuranda zijn onder andere een vogelpark, een vlindertuin en een koalaopvangcentrum. There are many souvenir shops. In Kuranda you can visit birdworld, a butterfly sanctuary and a koala sanctuary.
Uitzicht vanaf de weg van Kuranda naar Smithfield. View from the road Kuranda to Smithfield.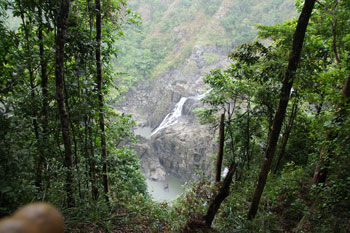 ..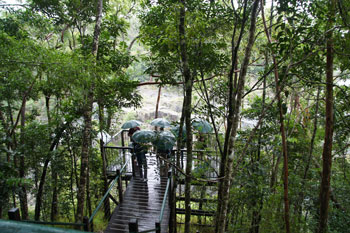 Kuranda - Skyrail Rainforest Cableway.
Zoals je ziet was het regenachtig. Maar dat hoort ook wel bij een regenwoud. Je moet twee keer overstappen. Dan kun je een korte wandeling in het regenwoud maken. Er is een prachtig uitzicht op de watervallen. The Barron Falls
As you can see it was rainy. Rainy belongs to a rainforest. Skyrail has two mid-stations. Then you can go for a short walk in the rainforest. There are beautiful views of the Barron Falls.
..
..

Kuranda Scenic Railway.
De regen was verdwenen toen we teruggingen met de trein. Bij de waterval stopte hij en konden we foto's maken. In het regenseizoen is er veel meer water te zien.
The rain was gone when we went back by train. At the waterfall, it stopped and we could take pictures. In the rainy season there is much more water.
Smithfield
Bezoek aan George. De hond en de tuin. George heeft vroeger in Kuranda gewoond. Hij was kunstschilder en is helaas in 2019 overleden.
Visit to George. The dog and the garden. George has formely lived in Kuranda. He was a painter and is unfortunately passed away in 2019.


Cairns, Trinity Beach

We hebben in Cairns de camper weer onbeschadigd ingeleverd bij Maui. De laatste dagen rusten we uit in the Blue Lagoon Resort Trinity Beach.
In the Cairns we have returned our campervan undamaged to Maui. The last days we rest in the Blue Lagoon Resort Trinity Beach.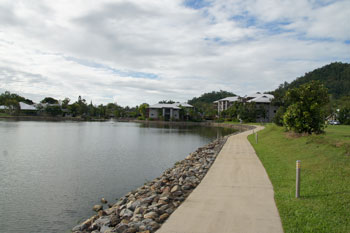 Blue Lagoon Resort Trinity Beach.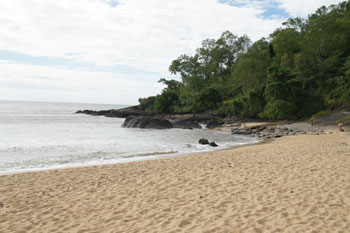 .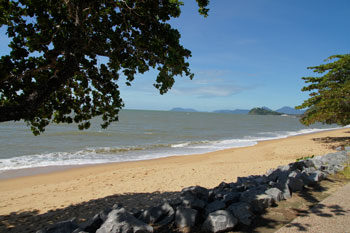 Green Island.

Green Island is een deel van het Great Barrier Reef. Op het eiland is een regenwoud. Je kunt er snorkelen, varen met een boot met een glasbodem en varen in een half onderzeeŽr. Met beide boten kun je het koraal en de vissen zien. Door de harde wind was het water niet zo helder als op de reclame foto's. Maar het was wel leuk.
Op de eerste foto's zie je de boot, die ons Vanuit Cairns bracht en weer ophaalde.

Green Island is part of the Great Barrier Reef. On the island is a rainforest. You can snorkel, take a boat with a glass bottom and a half-submarine. With both boats you can see the coral and fish. By the strong wind, the water was not as clear as the advertising pictures. But it was fun.
On the first pictures you see the boat, which took us from Cairns and picked up again.
Op de terugreis naar Nederland zijn we een dag in Hongkong gebleven. Zie verdere informatie op de subpagina. On the return trip to the Netherlands, we stayed in Hong Kong for a day. See further information on the subpage.
Subpagina AustraliŽ / Subpage Australia: Hongkong / Hong Kong
Dieren, die ik heb gefotografeerd staan op een aparte pagina. Animals, which I have photographed are on a separate page. Subpagina AustraliŽ, Subpage Australia: Dieren AustraliŽ, Animals Australia
Subpagina Frankrijk: Insecten Frankrijk Subpage France: Insects France