Nederlands / Dutch
Animals in the garden
In 2007 I have started to describe the animals in the garden. Many insects have their own page. I don't describe all animals. For example no birds. At the bottom of the page I have links to insect sites.

Frogs
Edible Frog, green frog (Rana esculenta).
They live on the bank of our pond. Green frogs hibernate in the mud at the bottom of ponds or ditches over the winter and wake up in spring, when the weather warms up. In this case in the pond.
On the third photo a young frog in April.
They eat insects, but also larvae, slugs and worms.
Edible frogs and common frogs deposit their eggs in big lumps. Edible frogs are later (the end of May to early June) First they eat a lot, when they are waked up.
Distribution: In Europe from the Mediterranean area to Southern Scandinavia. In the Netherlands the population has decreased.

German: Teichfrosch French: Grenouille verte
Common frog
(Rana temporaria).

The common frog breeds in ponds in March, April. Throughout the summer months they will range far from their breeding ponds and may be found almost anywhere in our garden.
Today (5 March 2007) my woman discovered a frog in a bucket with rain water. Normally it is not easy to make photos. So first I have taken some photos, before it got its freedom again.
The common frog is the most widespread frog in Europe. They
only hibernate, when it gets very cold.
You may encounter the Common Frog from late February to early October. They eat the same food as the edible fog.
On 1 April (no joke) we saw the first frogspawn in the pond. Left under you also see eggstrings

of the
Common Toad (Bufo bufo)
.
On 3-11 I saw the last common frog. It looked well-fed. What is necessary of course to hibernate. Its colour is light green now.

They always have a dark patch behind their eyes.

German: Grasfrosch French: Grenouille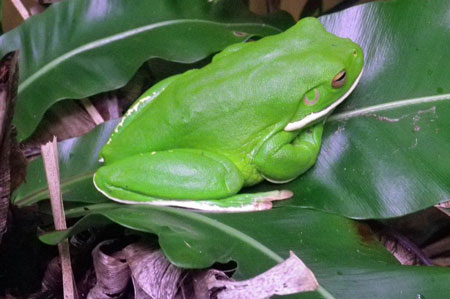 The white-lipped tree frog, the giant tree frog (Litoria infrafrenata). The world's largest tree frog.

Native to the rainforests of North Queensland, New Guinea, the Bismarck Islands and the Admiralty Islands.
But what does this tree frog on a Dutch garden site? My wife had sent photos of our frogs in the pond to her brother George, who lives near Cairns in Australia. He sent back a photo of this frog, which he had taken in his garden. He thought it was something for my garden site. Well ..... We were so proud on our frogs. This frog can be 13 cm.
Here I have posted some pictures of his garden. http://members.quicknet.nl/tj.de.graaf/Kuranda.htm

The tree frog (Hyla arborea) is the only species that occurs in Netherlands. Not in our neighborhood. This rare frog is only 4 or 5 cm.
Our Common frogs in 2013. Photo 17-4-2013.
Newts
Smooth Newt

, Common Newt

(Triturus vulgaris) It's a small newt.

It is found throughout Europe and

lives in a large part of Europe (except in Spain, southern France and far north) It's the most northern living newt specie, because it is found in Norway and Sweden. In the Netherlands it is most widespread newt. From April

to June (

the breeding season)

they are in the pond, afterwards they go on land. The adults also hibernate on land.
Today (5 March 2007) I have found smooth newts in the water meter

box

(dry). Every year smooth newts hibernate in the box. They seem always very thin. Especially if you compare them with a salamander, which I had found the same day in small pond, which I was cleaning. One newt I had almost forgotten. On the photo you can see why. (mimicry) The belly is orange with dark spots. You can see, if you lay them on their back. They played dead on this photo.
During the breeding season they develop a wavy crest; continuous from head to tail.
German:

Teichmolch French: Triton ponctué, lobé, vulgaire

Toads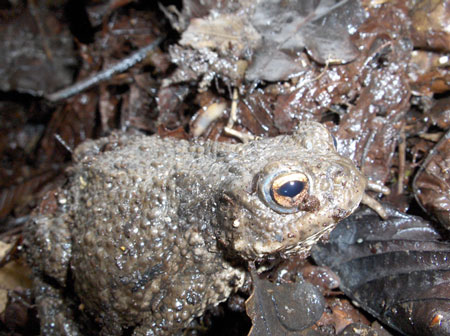 Common Toad (Bufo bufo)

Family true toads or Bufonidae.You can read more about it on wikipedia.
I was (11 March. 2007) working at the compost heap, when I saw the common toad hidden in the heap. I have taken some photos, before the toad disappeared again in the heap.
During the day you only see them in the breeding season. Then the many smaller males are waiting for the females (March-April) They always return to the water in which they were born. The male toads also disturb the frogs.
In our neighbourhood males clamber onto the backs of females and they return together to the water. Now there have been constructed special tunnels under the road for these toads.
In the pond appear long strings of two-stranded eggs.
Than the adults leave the pond and hunt in the evening for food (ants, slugs, earthworms).They secrete a toxin, that makes them unpleasant to predators to eat.
The photo with the double string with eggs twisting around the vegetation has been taken on 1 April. The other on 2 April.
The little toad on the photo was born the year before.
German: Echten Kröten French: Crapaud commun
Snails and slugs

Two photos of gastropods which means 'stomach foot'. During pruning I have collected snails. The brown slug I found on the compost heap. I found the other slugs in the water meter box.
...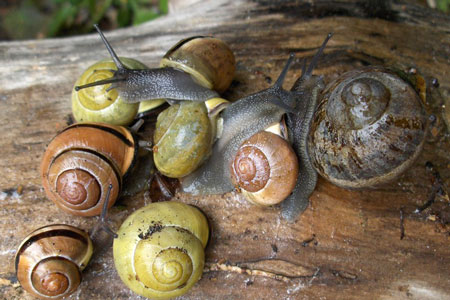 I
t was more difficult to take photos of gastropods, than I thought. Two slugs moved surprisingly fast in all directions. When

I had to load the accu, the other slug started also to move. I had put the snails back in the bucket for an other photo and had released the slugs on the compost heap.

Most gastropods are hermaphrodites, which means that each animal is both male and female.
When slugs have mated, both participants will later lay hundreds of eggs
.
Gastropods have a muscular foot which is used for moving.
They
secret a mucus or slime on which they glide.
The brown snail is a
Chocolate Arion, Large Red Slug
(Arion rufus). This slug gives me the most trouble. It eats even the cactuses with sharp spines. I see the large red slug also by day, when it is cloudy. On the photo it is in rest.
Slugs, when attacked, can contract their body.
The grey with dark spots is a Great Grey Slug, Great slug, Grey slug, Leopard slug ( Limax maxi sparrow)
It has a hort keel on the rear end of the body
It can grow to be as long as 20 cm.
It 's
feeding mostly on rotting plant matter and fungi. But I've read also on other slugs.
They live for up to three years.
The large slug is also a great grey slug. The green one is a

Yellow Slug (Limacus flavus)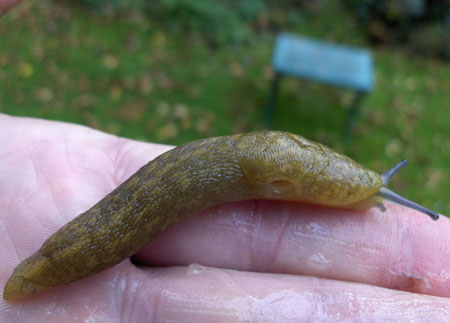 ..

The

Yellow Slug

( Limacus flavus synonym Limax flavus) was not to determine

from the photo with the other slugs. So I have made some photos of an other yellow slug. It is also a

keeled slug, which has a yellow body with grey mottling, and pale blue tentacles. Length:10 cm. This species is strongly associated with human habitation, and is usually found in damp areas such as cellars, kitchens, and gardens, at night. I find them in the water meter box.

The snails are less aggressive in our garden. The large shell is of a Brown Garden Snail, Common Garden Snail (Cornu aspersum, Helix aspersa) That day, I only saw an empty shell. Strange, for mostly I find them everywhere. Perhaps because the dryness at that moment. When conditions become too dry, the snail will retreat into its shell and seal the entrance with a parchment-like barrier known as an epiphragm, just like in the winter. Ten years.
The grove snail or brown-lipped snail (Cepaea nemoralis is closely related to the white-lipped snail (Cepaea hortensis) and shares the same habitat. The grove snail is larger and has a dark brown lip to its shell in stead of a white lip. But grove snails are polymorphic in their shell colour and banding. White, yellow, pink, dark brown. Light and dark bandings. The bandings vary in number. So it is difficult to determine.
Control of Slugs and Snails: On and around the cactuses I use Escar-go. It causes slugs and snails to stop feeding and die within 3 to 6 days. It is not toxic and can be used around pets and wildlife. I no longer plant hostas. If I find gastropods on sensitive plants, I put them on the compost heap. There they can eat.
Other sensitive plants in the garden: Bear's Breeches, Spiderwort (Spiderwort especially at the end of the bloom time), Golden groundsel, White coneflower For these plants I use sometimes (but not often) esgar-go. I no longer buy plants such as tagetes (or Marigolds) for the garden. I let as much as possible nature goes its own way.


Enemies: thrushes, beetles, moles, hedgehogs and mice.



Succinea putris Family ambersnails (Succineidae)

This snail I photographed in June. I do not know how it came into the garden.
Because a Succinea putris lives in damp places. E.g. wet meadows and marshes.
This is a young snail. They be almost 2 cm. The name amber snails because the fragile, transparant, amber-colored shell. German: Gemeine Bernsteinschnecke French: Ambrette commune

There are also many small snails in the garden. You have to look under stones and leaves in the garden. They are mot harmful.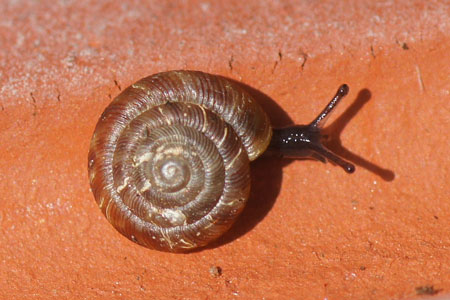 ..
Rounded snail, Rotund Disc (Discus rotundatus). Family Discidae.

In the Netherlands this species is not to confuse with other species. Characteristics: Shell pale yellowish brown with red-
brown stripes. The shell is about 6 mm.
The little snails eat vegetable matter and fungi. I find the snails under stones, broken branches especially near the compos heap.
Photos 30-8-2012. German: Gefleckte Schüsselschnecke, Gefleckte Knopfschnecke

..

Rounded snail, Rotund Disc (Discus rotundatus). Familie Oxychilidae.

In the Netherlands this species is not to confuse with other species. Characteristics: Shell pale yellowish brown with red-brown stripes. The shell is about 6 mm.
The little snails eat vegetable matter and fungi. I find the snails under stones, broken branches especially near the compos heap.
Thanks for determination Arjan de Groot en Tello Neckheim. Photos 21-4-2008.

..
Hairy snail (Trochulus hispidus, Trichia hispida). Family Hygromiidae.

The shell of this snail has short hairs. Something you don't often see on shells.
Shell about 6 mm. Europe. Photos 30-11-2011.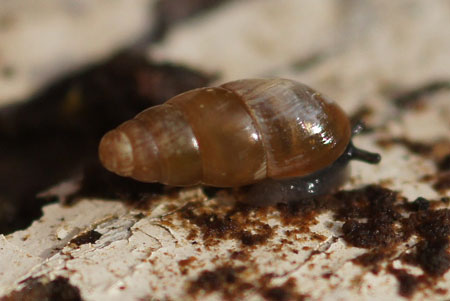 ..

Cochlicopa. Maybe Cochlicopa lubrica. Family Cochlicopidae.

This snail I found under a piece of wood with a number of rounded snails. The shell is 5 to 7 mm. (5 mm in the picture) Similar species are Cochlicopa lubricella and Cochlicopa nitens.
It feeds on plant waste, fungi and sometimes fresh leaves.
Europe, North America. but now also in Australia, New Zealand and South Africa.
Photos 30-10-2010. Small photo: Cochlicopa and a Discus rotundatus.

This is Oscar. The cat of our daughter. Sometimes it stays with us.
Two photos of Oscar two years later. (May 2009)
On the bridge over the pond.
At the edge of the pond.

As Oscar got older, he had trouble seeing and later went blind. Yet he still knew his way around the house and in the garden flawlessly when he stayed with us again. Unfortunately he passed away in 2020. Here a some photos on Flickr.

Collages of the woodlice, which I see in the garden. They are common species. Many more species are on the site of Jan van Duinen.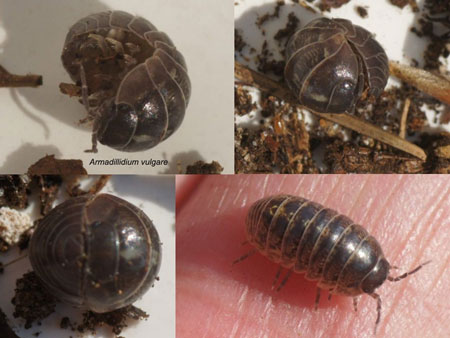 (Common) pill-bug, potato bug, (common) pill woodlouse, roly-poly, doodle bug, or carpenter (Armadillidium vulgare). Family Armadillidiidae (pill bugs, roly polies or doodle bugs).
Usually dark grey, sometimes with irregularly arranged yellowish spots. The young ones are often spotted. From dry to wet environments. Length 18 mm. Looks like Armadillidium opacum and the young also on Armadillidium nasatum. April 2018. Members of this family can roll into a ball.
Common woodlouse ( Oniscus asellus). Family Oniscidae.
Wide body with a wide, light edge on the side and with sharp corners of the body segments. Shiny dark grey with brown and grey-white spots. Often with two rows of yellow spots on the middle of the body. Length: 10-14 mm. From moderately moist to wet environments. March 2018.
Common striped woodlouse, fast woodlouse (Philoscia muscorum). Family Philosciidae.
Shiny brown, sometimes yellow or orange with regular rows of spots. Head dark, dark stripe on the back. The last five body segments are clearly narrower. Length: 6.5-9 mm. From dry to wet environments. March 2018. It runs faster than the other species.
Common rough woodlouse, rough woodlouse (Porcellio scaber). Family Porcellionidae.
Mat grey, sometimes somewhat orange or yellow-green with irregularly arranged grey spots. Sometimes with a slightly lighter edge. Rough because of the small tubercles. Length: 9-13.5 mm. Moderately moist to wet environment. March 2018.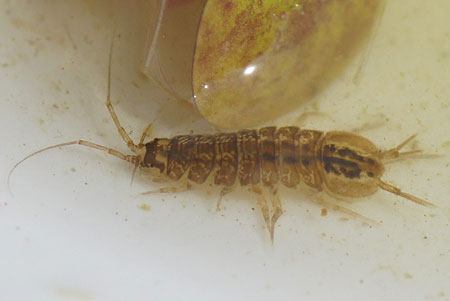 Freshwater crustacean (Asellus aquaticus). Family Asellidae (Isopod crustaceans).
In the neighbor's pond. Brown and flat. Up to approximately 25 mm. In still to slow flowing water. Photo 20-6-2014.
My photos on Waarneming.
Links:

America:
| | | |
| --- | --- | --- |
| Austin bug collection. A photographic guide to the insects, spiders, and related arthropods found in Austin, Texas by Valerie. | | Tom Murray Many, many, many insects and other species of America. |
| | | |
| --- | --- | --- |
| Bugguide.net An online community of naturalists who enjoy learning about and sharing our observations of insects, spiders, and other related creatures. | | Insectimages.org Many images of insects in America. |
| | | |
| --- | --- | --- |
| American insects The American Insects site is an on-line guide to 3,345 different insects from the Americas. By Stephen Cresswell, Buckhannon, West Virginia | | Latin American insects This site is an add-on to our American Insects web site. |
Australia
| | | |
| --- | --- | --- |
| Insects I've photographed in Australia. | | Insects of Tasmania. The majority of the photos in this site are taken by Tony Daley or Kristi Ellingsen. |

Asia:
| | | |
| --- | --- | --- |
| Papua-insects.nl The insects of Papua Indonesia. Taxonomic and faunistic overviews. | | |

Germany:
| | | |
| --- | --- | --- |
| Natur-in-nrw of Axel Steiner. Text and image information on a variety of animals, plants, lichens and fungi of Nordrhein-Westfalen. | | Naturraum Stux of Michael Stemmer. Detailed information of Michael about his garden, but also about flora and fauna of Stuxes in Unkel, a small town south of Bonn. |
| | | |
| --- | --- | --- |
| Ingrids Naturseiten of Ingrid Altmann. Photos van insects and spiders. | | Naturspaziergang of Andreas Haselböck. Translated: A walk in nature. Andreas tells about everything you can find in the nature: Plants, insects, arachnids, birds and other animals. |
France:
All subpages: